Arrival in Guyana, the Ariane launch
This time I arrived in French Guiana the day of the Ariane 5 launch. A great opportunity to see the lift off the heaviest payload ever sent into space by an Ariane 5: the cargo  for the international space station ISS, ATV 4 (Automatic Transfer Vehicle) named Albert Einstein – a load of 20,190 tons. This flight is also sponsored by Mulhouse, my city, at the occasion of the 2013 Presidency of the Community of Ariane Cities.
The weather was not in favor this Wednesday, June 5, but ultimately, at hour H0, the weather appears good. The sunset reddened the horizon. From the little mountain Carapa, everyone is ready and listening with bated breath to the last seconds countdown "3 2 1 Vulcain ignition …". The light illuminates the horizon. This Ariane 5 lift off. We forget the tiredness of the travel, and jet lag. It is 11:52 p.m. minutes and 13 seconds in Paris, and the visual spectacle is just technological.
Sorry but I'm not talking about radio there … but I think you're interested anyway.
I'd rather let you see the video I took from Carapa, 13 km from the ELA 3 launch zone. This gives an overview. History of post-launch events also on this famous french forum of the conquest of space.
[fvplayer src='http://www.f5uii.net/wp-content/uploads/2013/07/va213.mp4′ width=960 height=544 splash='http://www.f5uii.net/wp-content/uploads/2013/07/video_va213.png' popup='Popup']
This is for the introduction. So I was not able to take the microphone that evening, because of the launch, but I had the opportunity to be on the air the following evening on June 6 from the radio club FY5KE.
My traffic from the radio club
I had the opportunity to take the microphone from the radio club Kourou FY5KE between 6 and 14 June, for about 30 hours of work on the air. Beautiful openings of 20, 15 and 10 meters have occurred, that have let me work beautifuls pile-up and offer the pleasure  of 1800 times, contacts with French Guiana . Three European QRP stations contacted me (5W, 9W).
At the radio club, the 5 elements yagi antenna on 10 m was replaced by a single band 7 elements. Directivity and gain are very significant.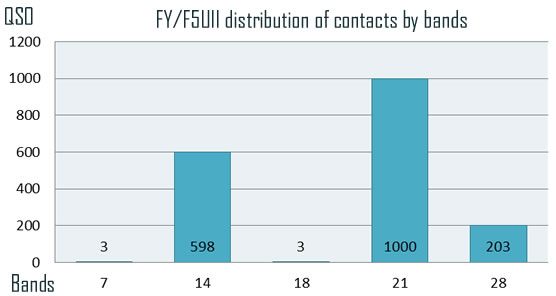 My activity from Royale Island, IOTA SA-020
This weekend on 8 June 2013, there were two cross of  the islands Shuttle programmed Saturday. I was a bit late to book, so I shipped the second travail at 11am. The crossing was pretty quiet, but the second half way, it rains. Fortunately on disembarking the rain had stopped. After holding its keys, I invested the caretaker's room. Located in front of the area, this not allow me unfortunately  mount my long wire.
Then I mounted between the barracks, my FD-Carolina, type of Windom antenna , working from 40 to 10m (or 6m) with a fishing rod carbon fiber 6m long support. A large thank you to Hugh F4GSN for the loan of this antenna, produced by himself.
My TS-480 SAT is powered by a small and lightweight power supply. I am QRV at 17 hours UTC. 10 meters band is open and allows me one hour and a half of contacts with Europe, North and South America. But propagation falls. At 21:20, I uses an opening for 20 minutes with Europe on 17 meters. With this very low propagation, I enjoy and thanks in using my TS-480 integrated voice parrot system (voice option).
Hoping for a favorable resumed propagation in the morning, I spent a rather short night, and get up at 4 am local time … Some difficult and very few QSOs on 20 meters are made … Then finally two dozen new contacts on 10 meters in the afternoon … In brief, a very low activity, with finally 130 contacts in the log. During the pauses, local Guyanese friends went to greet me, it is always friendly, and fill time. Pretty disappointing, but that is part of the portable radio expedition… My first activity in January was much more successful.
Thank you again to the friends in my department 68 (Haut-Rhin) who followed me and contacted me during this QSY on Kourou and "Islands" stay …
For this IOTA activity, In a few months, I will send all the contacts my dedicated IOTA SA020 QSL card via the bureau. If you wish, you can ask your QSL direct (see QSL information).