Editor – Responsible for publication: Christian F5UII
Contact :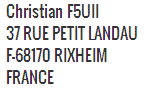 This site is hosted by PulseHeberg – 16-18 avenue de L'Europe – 78140 Vélizy-Villacoublay, France.
This host has my personal details updated.
Links and trackbacks
The links on this site may lead the reader to external sites whose content can not engage the responsibility of the publisher.
The establishment of links to the website www.f5uii.net is subject to prior agreement. Are automatically excluded, and all sites support a controversial, pornographic or xenophobic or which may affect the sensitivity of the greatest number.

Cookies
Navigation on the site www.f5uii.net may cause the installation of cookies on the user's computer. A cookie is a small file which does not allow the identification of the user, but which records information about the navigation of a computer on site. The data thus obtained are intended to facilitate subsequent browsing of the site, and also enable various measures of attendance.
Right of use
The content is made available for private use and non-proprietary. This right includes the right to use storage workstation and the right to reproduce the conditions defined below. Use of the site is free. The right to prohibit use of this site recovery databases.
Management of personal data
In France, in particular personal data protected by law n ° 78-87 of 6 January 1978, Act No. 2004-801 of 6 August 2004, Article L. 226-13 of the Penal Code and the European Directive of 24 October 1995.
At the time of use of the site www.f5uii.net can beings collected: URL links through which the user accessed the site and the type of equipment used.
No personal information of the user of the website is published www.f5uii.net unbeknownst to the user, exchanged, transferred, assigned or sold on any media to any third party.
Copyright
This entire site is covered by French and international legislation on copyright and intellectual property. All rights are reserved to the iconographic representations. Reproduction of all or part of this site on an electronic medium whatsoever is strictly prohibited without the express permission of the publication.
Reproduction of the texts of this site on paper is authorized, particularly for educational purposes, subject to the following three conditions: free distribution, respect for the integrity of the documents reproduced: no modification or alteration of any kind, clear and legible source in the following form – for example – "the document from the website www.f5uii.net. Reproduction rights are reserved and strictly limited. "
For other uses, please contact us.
Credit
Design, production and graphic design by Christian F5UII
Hosting: PulseHeberg
CMS: WordPress
Theme: Catch Catch-Box Themes
Translation Theme: WPaddict