Pour réaliser un relais numérique multimode, G4KLX a développé un logiciel très complet qui s'appelle MMDVM (Multimode Digital Voice Modem). Il est compatible des principaux modes numériques (à ce jour, C4FM, DSTAR, DMR Tier 2 et maintenant P25).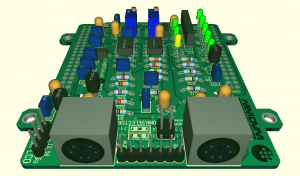 Après ma précédente carte d'interface MMDVM fonctionnant avec un Arduino Due, cette nouvelle carte permet de réaliser l'interface entre émetteur et récepteur sur la base de la carte Nucleo de ST Microelectronics à base de STM32F446RE. Cette carte à l'avantage de tourner à une cadence de 8 MHz (fréquence de CPU jusqu'à 180 Mhz) et présente un prix d'achat plutôt bas (environ 15 EUR HT). Un ordinateur (tel qu'un Raspberry Pi par exemple) connecter en USB au STM32 complète la logique de relais et héberge la seconde partie du logiciel MMDVMHost.
J'ai réalisé ce typon, comme un certain d'autres OM, avec composants de tailles classiques (Circuit intégré en DIL, les résistances en quart de Watt ,…). Il n'y a guère que le TCXO qui reste assez petit. Pour s'affranchir d'un composant CMS de mise en forme, j'ai choisi d'installer un TCXO HCMOS directement compatible des 3,3V. La référence choisie est la FOX924B-12 avec une stabilité annoncée de +/-2.5 ppm.
La platine s'enfiche directement sous la carte Nucleo STM32.
Les caractéristiques suivantes ont été ajoutées par rapport à la précédente carte d'interface MMDVM fonctionnant avec un Arduino Due :
Mesure de niveau des signaux RSSI renvoyé par le récepteur (avec jumper de validation)
Une LED signalant la vie de la platine (Live Led)
Quatre LED indiquant le mode actif (DStar, DMR, YSF, P25)
Pins d'interfaces radio intégrés entre les deux connecteurs mini-Din
Commutation possible vers un seul connecteur mini-Din Emetteur / Récepteur
Interface pour écran LCD tactile Nextion
Quatre pattes de fixations supplémentaires 3mm (50,00mm x 75,56mm)
Format PDF : Schema MMDVM shield for STM32
Voilà la nomenclature de composants :
Nom
Valeur
Précision
Boîtier
C1
10µF
D4R2,54_ELKO
C2
10µF
D4R2,54_ELKO
C3
10nF
10%
3X5R2,54
C4
47µF
D4R2,54_ELKO
C5
47µF
D4R2,54_ELKO
C6
10nF
10%
3X5R2,54
C7
10nF
10%
3X5R2,54
C8
10µF
D4R2,54_ELKO
C9
47µF
D4R2,54_ELKO
C10
1nF
5%
3X5R2,54
C11
1µF
D4R2,54_ELKO
C12
470pF
3X5R2,54
C13
39nF
5%
3X8R5,08
C14
10nF
10%
3X5R2,54
C15
100nF
3X5R2,54
C16
47µF
D4R2,54_ELKO
C17
39nF
5%
3X8R5,08
C18
1nF
5%
3X5R2,54
C19
100nF
3X5R2,54
C20
47µF
D4R2,54_ELKO
C21
100nF
3X5R2,54
C22
22nF
3X5R2,54
C29
100nF
3X5R2,54
C-RX1
Receiver
DIN6POL-MINI
C-TX1
Transmitter
DIN6POL-MINI
D1
LED SQUELCH
LED_3mm_vert
D2
LED PTT
LED_3mm_rouge
D3
LED POWER
LED_3mm_jaune
D4
LED DSTAR
LED_3mm_vert
D5
LED DMR
LED_3mm_vert
D6
LED YSF
LED_3mm_vert
D7
LED P25
LED_3mm_vert
D8
LED LIVE
LED_3mm_jaune
IC2
MCP6002-I/P
DIL8
IC3
MCP6002-I/P
DIL8
IC4
LP2950ACZ3,3
TO92
Q1
2N7000
TO92
Q3
2N7000
TO92
R1
330
0204_MET
R3
4,7K
1%
0204_MET
R4
5,1K
1%
0204_MET
R5
22K
1%
0204_MET
R7
4,7K
1%
0204_MET
R8
4,7K
1%
0204_MET
R13
10K
0204_MET
R14
330
0204_MET
R15
47K
0204_MET
R16
1M
0204_MET
R17
47K
0204_MET
R18
5,1K
1%
0204_MET
R20
220 x 8
SIL9
R21
22K
1%
0204_MET
R22
4,7K
1%
0204_MET
R23
22K
1%
0204_MET
R24
27K
0204_MET
R25
47K
0204_MET
R30
100K
0204_MET
R98
100K
VISHAY_64W
R99
100K
VISHAY_64W
TCXO1
12MHz (FOX924B-12)
CFPX-104
J1
Radio interfaces
Stiftleiste_1x07_G_2,54
J2
Nextion LCD
Stiftleiste_1x04_G_2,54
JP1
Connector Sel.
Stiftleiste_2x02_G_2,54
JP2
En.RSSI
Stiftleiste_1x02_G_2,54
CN7, CN20
Female conn. 2×19
Stiftleiste_2x19_F_2,54
Afin de réaliser votre exemplaire de la carte électronique, vous trouver ici tous les fichiers de production et perçage de la carte au format standard Gerber : MMDVM STM32 F5UII v2 – licenced CC by-nc-sa
Voici la carte montée, testée et fonctionnelle
Sur le tableau ci-dessous, vous retrouvez le brochage à suivre en fonction de la platine. Comme ma précédente platine MMDVM pour Arduino utilise la définition NTH.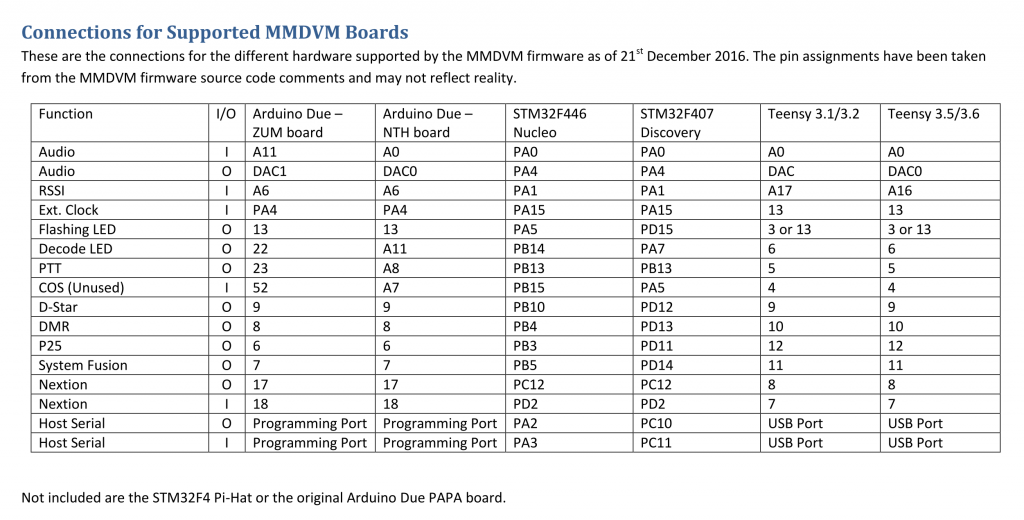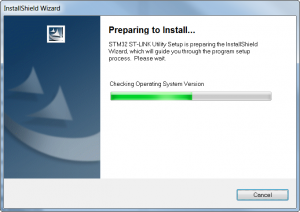 Une fois votre carte montée, vous serez certainement pressé de charger le firmware MMDVM et régler MMDVM sur la platine d'interface STM32 : Installation de MMDVM sur une carte STM32F4xx
Et pour ce qui concerne le réglage, je vous invite à lire l'article dédié à l'installation de MMDVHost et du réglage de mode DMR.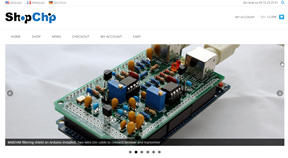 Si vous êtes intéressé pour participer à une éventuelle future nouvelle commande groupée (MMDVM board), laissez votre email ci-dessous pour être alerté !

If you would be interested to participate in a possible future new grouped order (MMDVM board, SvxLink Card), leave your email below to be reported!