Pourquoi passer en H.265 ?
In the previous article, I had the opportunity to explain that the digital rate transmitted to the transmitter is dependent on the characteristics of the radio signal that will be transmitted: Mainly its spectral width (or the number of kilo symbols) and the correction factor (FEC). If this doesn't tell you much, I invite you to (re)read this article to clarify these important notions in DATV.
H.265 encoding (or MPEG-4 HEVC for High Efficiency Video Coding) is a much more powerful video encoding and compression process than H.264. Thanks to its algorithm that increases the static areas in the image and "tightens" the compression mesh, the H.265 encoder is able to save up to 70-80% bandwidth for the same quality as H.264 encoding.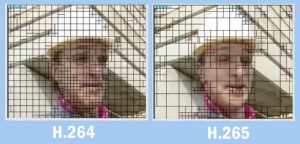 On the image above, we can see that there are globally less squares on the right image, encoded in H.265 than on the left image. It is this economy of uniform areas that increases the data rate useful for transmitting an image. On the other hand, if we consider that we want to use the entire available bit rate, we will then be able to improve image quality, by avoiding blurring during rapid image movement, or else be able to increase the definition of the video sent.
On the other hand, H.265 encoding is only available on some recent graphics cards. Some third-generation Nvidia cards integrate an NVENC H.265 encoder (NVIDIA's encoder). Refer to the GPU manufacturer's list to know if your GPU integrates this H.265 encoding technology. For those who don't, there are boxes on the market that encode a video input to an Ethernet network "output".
There are several models on the market. We will focus on a model that is widely available and whose price remains correct: ON-DMI-16D (1080P@50fps) or ON-DM1-16A (1080p@60fps). Here are the manufacturer's specifications.
H.265/H.264 HDMI Video Encoder

Basic
Information
   Username:admin;  Password:12345; IP:192.168.1.120
Model
  ON-DMI-16D   or    ON-DMI-16A
Chipset
  Hi3516D (1080p@50fps) or Hi3516A (1080p@60fps)
Video/Audio
Compression
Video Encoding
  H.265/H.264 Encoding
Audio
  AAC, G.711U, G.711A;  Sample: 48000kHz;G.711U/A for NVR
Audio sampling
  32K, 48K, 64K, 128K or 8000HZ(for NVR)
Bitrate
  CBR/VBR; 64kbps-12Mbps(adjustable)
Frame rate
  1-30fps (adjustable)
Bitrate
  Main Stream:1920*1080, 1600*900, 1440*1050, 1280*1024, 1280*800, 1280*720;
Sub Stream:1280*720;800*600, 720*576, 640*480, 640*352, 352*288, 320*240
Video Stream
UDP
  udp://@224.1.2.3:10000
TS stream
  http://192.168.1.120:80/ts/0(main stream)
http://192.168.1.120:80/ts/1(sub stream)
RTSP
  rtsp://192.168.1.120:554/live/0(main stream)
rtsp://192.168.1.120:554/live/1(sub stream)
Network
Protocols
Protocols
  TCP/IP, UDP, RTSP, ONVIF, HTTP, DNS, RTMP, TS stream, DHCP
WI-FI Protocols
  Support 802.11b/g/n, WEP, WPA, WPA2 Encrypted Protocol
Private Protocols
  Hikvision and DaHua Private Protocols
Interfaces
Network Port
  RJ45 10M / 100M Adaptive Ethernet Interface
HDMI
  1CH HDMI Input
Reset
  Support
Others
Operating Environment
  Temperature: -10℃~+55℃; Humidity: <95%
Server
  Support Baidu Cloud, Youtube, Wowza and other streaming media servers
NVR Compatibility
  Support H.265 NVR from Hikvision and DaHua【Audio:G.711U】
CMS Client
  Support Hikvision (iVMS-4200/8700) and DaHua (SmartPSS)
Power Supply
  DC 12V/1A
Consumption
  ≤3W
Dimension
  115(L) * 70(W) * 33(H)mm
Here is the encoder manual to download: H.265 HDMI Video Encoder Quick Start Guide_ERV1.2.pdf