L'architecture encodeur externe avec Adalm Pluto
The case is to be considered as a screen or a video projector that would be connected to your computer. Except that in our case, the encoder does not display an image but encodes the video and audio to send it via a network to a receiver/diffuser, a receiver which in our case is the Adalm Pluto with the firmware PlutoDVB. The H.264/H.265 encoder has an HDMI connector through which we will send the video and audio. It is advisable to use the RJ45 cable to connect the box to the network rather to the wifi network, which is more prone to disturbance.
It is therefore also assumed that you have also connected your Adalm Pluto on an Ethernet network (see my previous article to perform this operation).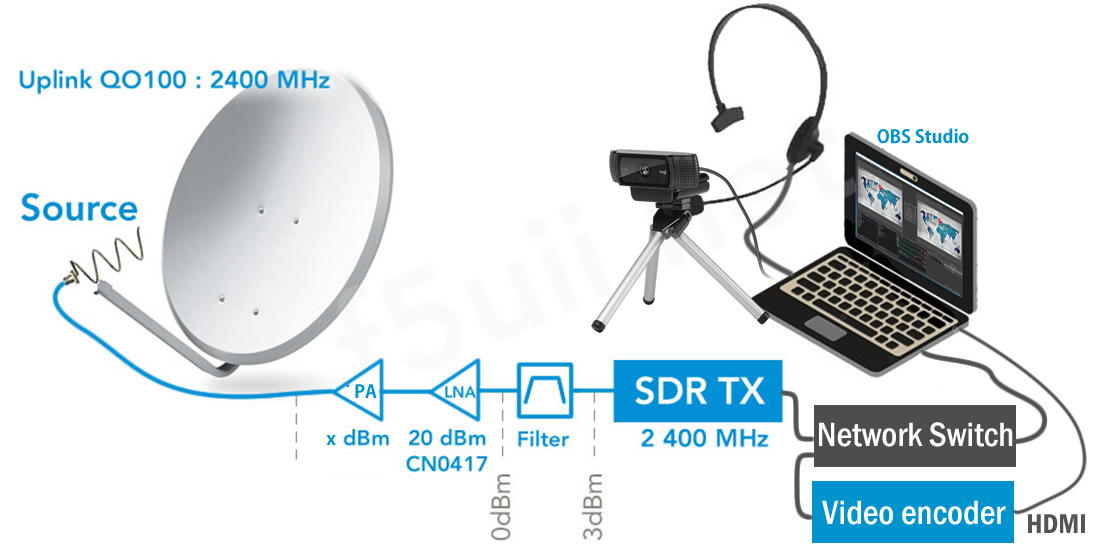 Where to buy this H.265 encoder ?
You can find this encoder at various retailers, usually shipped from China.
Check the plug type of the power supply unit, use a US adapter if necessary.
Let's plug in the encoder
We need to connect the video input of the encoder which is in HDMI to your computer. Personally I use a laptop PC that has an HDMI port and also a VGA video output. For more comfort, I connect a second monitor to my computer to the VGA port of the computer.
Then, connect by an RJ45 patch cord your encoder on your network, to your switch or router, on which is also connected your Adalm Pluto (the implementation of the PlutoSDR on network is detailed here). Power your encoder using the 12V/2A power supply provided.
After a few moments, the operating system detects on the one hand a new screen/monitor, and on the other hand a new audio channel.
If, like me, you have two screens, first of all, let's organize the available screens to match their physical positions. Right click on the desktop and choose Display Settings.

Click on Identify to see that your screens are well positioned. If necessary, drag and drop one or the other of the screens. In my case, screen 2 is the VGA screen, screen 1 is the main laptop screen, and screen 3 is the H265 encoder.

Let's now check the presence of the new audio broadcast channel corresponding to the encoder box. Right-click on the speaker in the taskbar (bottom right) and then click on Sound (or type Sound in your windows main start menu).

On the play tab of the window that opened, an audio channel called ITE6802 should appear in the list. A right click, followed by a click on Test should show you an animation of the green bar graph. Everything is now functional.