As the computing power of our microcomputers increases, our amateur radio stations are becoming more and more computerized. However, the classical ergonomics of a transceiver front panel is much more efficient than that of a mouse, a keyboard and a PC screen. Let's see how to remedy this.  I am a daily user of the SDR Console software, which Simon G4ELI continues to complete and maintain with brio. Many thanks to him!
I found it interesting to add some additional equipment to get closer to the ergonomics of a classic station. We are going to add a foot switch, and an ergonomic keyboard allowing the easy adjustment of the VFO, the power, among others. It is then close to a classic transceiver with its front panel equipped with displays and control buttons.
These elements will also facilitate the use of his remote station. I also propose you soon in a specific article how to configure your SDR station to be used in remote transmission and reception, outside your home, via internet. I specify from the start that the band plan and the rules of use of the QO100 satellite indicates that it is forbidden for operators to use a remote station.
PTT foot switch
On my "classic" station, I use a foot pedal to control the PTT. It is very practical to have hands free, to enter the call sign of the correspondent in the logbook. A headset is also used and avoids, for full-duplex satellite traffic, that the received sound is re-injected (audio looping).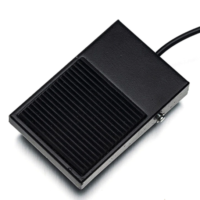 As for the pedal itself, there are several models. Here is a selection:
To add a PTT command to SDR Console, you will have to add a serial link to your PC, if it does not already have one.
For modern microcomputers, the easiest way is to add a USB / Serial adapter. There are several models that you can easily add online. You should choose a complete adapter with pins for control signals:
Use a DB9 female connector to which you will solder these connections to the pedal. In my case, I implemented a jack connection.
As you can see on the pictures below, I have in fact pinned two jacks on the DB9 serial connector:
A jack is to be used with SDR Console, connected between RTS and CTS
A second jack is provided for the RemAudio software that I explain in my article dedicated to the remote station. It will be used to transfer audio and the PTT command remotely, from another computer. I'll come back in more details in the article dedicated to this subject.
Connect the pedal to the serial socket
SDR Console offers two possibilities to connect the switch. For my part, I chose to connect the contact between CTS and RTS of the serial connector. The second possibility is to use DSR and RTS.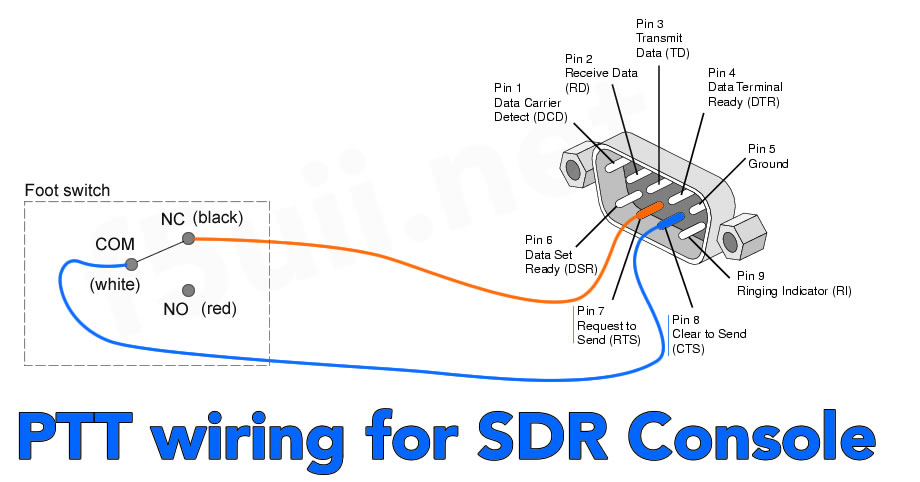 Let's now move on to the parameterization of SDR Console itself.
Setting up your serial port for PTT SDR Console
Start SDR Console and your emission SDR equipment (In my case Adalm Pluto)
Open the Options panel of the Transmit tab

Choose the serial port for your adapter
Set the chosen pin and connect it to the pedal. In my case, I use the CTS
And check Enable then Apply
Restart SDR Console
Now, if everything is well connected, the TX button is activated when you press the foot pedal. The SDR Console's PTT transmission is controlled by your foot.
External control panel
The equipment, the DJ deck
To complete the ergonomy of the SDR station, so that we have easy access to the main controls, we will add an external board. This will allow us to control the receive/transmit frequency (VFO – Variable frequency oscillator), the receive audio levels, the receive filter width, the power, the transmit switch… without SDR Console being displayed in the foreground under Windows.
SDR Console proposes indeed to connect external turntables which communicate by MIDI protocol (Musical Instrument Digital Interface, invented in the 80's during the democratization of digital synthesizers).
For my part, I use the DJControl Compact from Hercules:
There are other Midi models, such as :
Configure SDR Console software
To control your MIDI deck with SDR Console, you just have to connect it to a USB port. No need to install the manufacturer's driver. The MIDI protocol is directly managed by SDR Console. Everything happens in SDR Console, let's see.

In SDR Console, you will open the Options panel of the Tools menu
Open the Controllers / MIDI sub-menu. You will find the available controls that we will now associate with the keys of your turntable.
The assignment of actions to keys is done by line, action by action, one after the other:

Single actions must receive a push button command
The Range actions must receive a variable command such as a rotating button.

I have prepared a configuration file for the Hercules DJControl Compact.
To install the entire definition of the DJControl keyboard corresponds to this assignment of SDR Console functions, it is very simple:

Download the file DJControl_Hercules_SDRConsole_F5UII_mod_F1AGR.zip
Unzip content
From the Options/Controllers/MIDI window, click on Load from...

and select the file DJControl_Hercules_SDRConsole_F5UII_mod_F1AGR.xml that you have previously unzipped. Click Open.
Confirm the Options window with OK.
I invite you to print this A4 document of the keyboard configuration (DJControl_Hercules_SDRConsole_F5UII.pdf) and display it in front of you to make your start with this new keyboard easier. After some time of use, you should not need to focus your eyes on this help…
Update of 28 march 2023 (Thanks to Gilles F1AGR for the corrected XML! and also added ARTURIA BEATSTEP PRO under)
Massimo IU4FIR also offers to share his SDR Console setup for the Hercules DJControl Starlight keyboard. A big thank you to Massimo: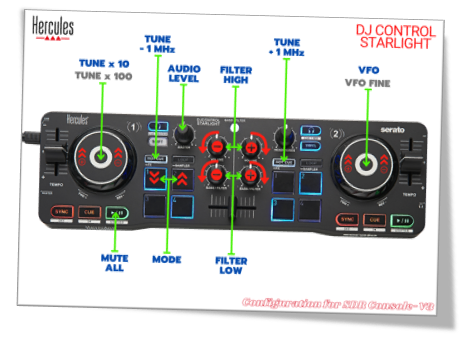 Massimo IU4FIR also provides a configuration for the ARTURIA BEATSTEP PRO keyboard
With SDR Console  3.1 on the QO100 satellite, I work in full duplex, unlocking the transmission and reception slaving. This allows me to follow a station which could drift while answering and transmitting on a stable and fixed frequency. It also allows to realize obviously "DX" QSO, using the frequency split. It would be useful if SDR Console could have some additional commands to facilitate this traffic, I suggest (to Simon G4ELI):
Sync RX>TX
Sync Freq RX On/Off
RIT, XIT up and down (range)
Voice Keyer memory 1, 2, 3 and 4 start
Voice Keyer delay selection (up/down)
Waterfull zoom (range)
If you are interested in the MIDI protocol and see the data exchanged between your turntable and the PC, I recommend the MIDI-OX software. Be careful not to launch it at the same time as SDR Console, the latter crashes if another software uses the same MIDI hardware.
Conclusion
So simply, by connecting to your PC
a headset microphone
a foot switch
a DJ turntable
you will have gained in ease of use of your SDR Console software.
As usual, you can ask your questions directly in the comments of this article. This allows us to share the questions and answers with other readers who may be interested. Don't hesitate to share your DJ deck tests, as well as the corresponding SDR Console key assignment files (xml). On the other hand, questions of public interest arriving by email or private contact will not be answered.
In the next article, we will implement a configuration that will allow to use the station remotely; via an internet link. If you subscribe to my twitter account @f5uii, you won't miss the publication of the article.
Illustrations :