Introduction
Install the Raspberry Pi Operating System
We will install the latest version of Raspbian Jessie Lite. The "Lite" version  is sufficient since we do not need the graphical interface. The file to download is less voluminous than the full version.
Prefer a fast class 10 microSD card.
Download Raspbian
Go to the download page of raspberrypi.org and choose the light version (the version "lite"). Currently, the version available is the Jessie version.
Install the file
The downloaded file is a compressed file (zip), which you will first decompress it. You need to insert your blank microSD card, with an SD adapter into the card reader of your PC. You will use the "burn"  Win32ImageWriter software. CAUTION, select the correct drive letter. In case of error, you may destroy the contents of your hard disk !

Once your card is burned, insert your SD (microSD) into the Raspberry Pi port. Connect an Ethernet cable to your network router, and turn on the Raspberry Pi by connecting a power supply to a micro-USB (phone power charger). Make sure your power supply is at least 1 ampere. Indeed some power supplies too weak, allow the lighting of the Raspberry Pi LEDs suggesting that it works, but block in fact its startup.

Connection to the Raspberry Pi
You have connected your Raspberry Pi to your Ethernet network. An automatic IP address was certainly given to him by the router (Internet box) of your network. Determine the IP address of the Raspberry Pi,
either by looking at the list of ip addresses connected to your router (or Internet box),
Connect with a terminal software, for example Putty indicating the IP address of the Raspberry Pi, SSH protocol (port 22).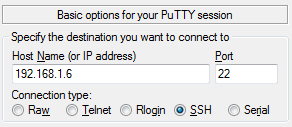 Enter the login and password by default.
login : pi

password : raspberry
Then run the command, to set the Raspberry Pi
Then choose the menu Expand Filesystem to use all available space on your SD card.
Update the operating system with the following commands. The update files are downloaded directly from the internet. The process can be long, and depends on your download speed.
Install the Git software which allows to download directly the projects available on the GitHub Platform.
A few steps for the Raspberry Pi 3
If you are using a Raspberry Pi 3, here are some modifications to do. This paragraph should not be applied if you have an earlier version (2, B +), go directly to the next paragraph "Download the MMDVMHost software"
Open the file /boot/cmdline.txt :
Delete "ttyAMA0" in the line
Delete the part "console=serial0,115200" in the line
You should have a line like this
| | |
| --- | --- |
| | dwc_otg.lpm_enable=0 console=tty1 root=/dev/mmcblk0p2 rootfstype=ext4 elevator=deadline fsck.repair=yes rootwait |
2. Open now the file /boot/config.txt
sudo

nano

/

boot

/

config

.txt
and add in last line (disables the bluetooth wireless function of Raspberry Pi 3)
If you would be interested to participate in a possible future new grouped order (MMDVM board, SvxLink Card), leave your email below to be reported!