Conclusion
The image definition is the size of the image, the video you are going to transmit. You will choose the definition according to your CBR video bit rate. You will easily understand that it is not possible to transmit a large fluid image without blurring or artifacts at a low bit rate. H.264 compression is generally available as standard on PCs and graphics cards;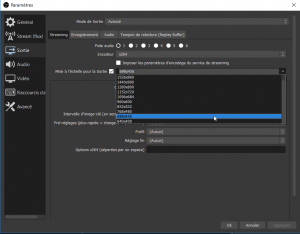 Set your definition and the H.264 encoder in the OBS Studio parameters, in the Encoder fields (x264 or other proposed h264 encoder, depending on your graphics card) and output scaling.
There is also the H.265 encoding with a much more powerful compression, and capable of being sent to PlutoDVB. Thanks to an algorithm that increases the static areas in the image and "tightens" the compression mesh, the H.265 encoder is able to save up to 70-80% of bandwidth for the same quality as H.264 encoding.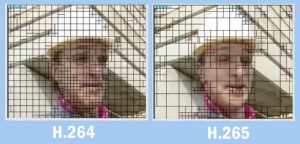 On the other hand, H.265 encoding is only available on some recent graphics cards. Some third-generation Nvidia cards integrate an NVENC H.265 encoder (NVIDIA's encoder). Refer to the GPU manufacturer's list to know if your GPU integrates this H.265 encoding technology.
The external h.265 video encoder
For those who do not have a PC with a graphics card that supports H.265 encoding, there is the possibility of using an external encoder such as this one, referenced ON-DMI-16D (1080P@50fps)  or ON-DM1-16A (1080p@60fps):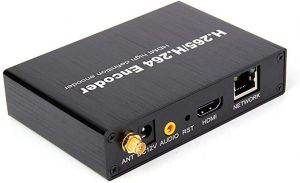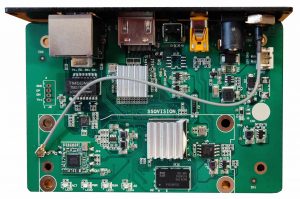 The box is to be considered as a video projector that would be connected to your computer. Except that in our case, the encoder does not project an image but encodes the video and audio to send it via network to a receiver/diffuser, receiver which in our case is the Adalm Pluto with the firmware PlutoDVB. The H.264/H.265 encoder has an HDMI connector through which we will send the video and audio. It is advisable to use the RJ45 cable to connect the box to the network rather to the wifi network, which is more prone to disturbance.
You will find this H.264 and H.265 encoder at an interesting price distributed by the Chinese market :
Here is the H265 encoder manual : H.265 HDMI Video Encoder Quick Start Guide_ERV1.2.pdf
A complete article about the implementation of this external encoder with the Pluto (Brave version) is available on this blog : DATV: How to encode in h.265 with an external HDMI encoder
Note that Evariste is currently (May 2020) at work to reduce encoding delays, and make the stream more compliant with DVB-S2, DVB-S standards (See @f5oeo's tweet on this subject). We are always looking forward with eager anticipation to the delivery of all its developments .