Caractéristiques techniques
Technical data of AnyTone manufacturer
Memory Channels

4,000 channels

DMR Talk Groups

10,000

Digital Contacts

150,000 (complete worldwide database from DMR-MARC) 

Power Levels

4 programmable power levels: 6/4/2.5/1 Watt Transmit Power Levels.

Zones

250 zones, up to 250 channels per zone.

Display

1.77 inch color TFT Screen with selectable dual channel or single channel display.

Battery

Operate 35+ hours between charges with the supplied 3100 mAh lithium ion battery in the power saver mode.

Bandwidth

12.5 / 25.0 kHz Analog, and 12.5 kHz DMR

Import/Export

Enhanced CPS allows direct input and export of channels, digital IDs and talkgroups.

Industries

Ideal for fire, search & rescue, EMS, police, sheriff, forestry, security patrols, business communications, schools, universities, and other organizations that have FCC licensed frequencies.

DMR Compatibility

Supports both Tier I and Tier II operation, making it compatible with DMR repeaters that utilize two-slot TDMA technology.

Amateur Radio

Also operational on amateur radio DMR networks and analog frequencies. Software importable worldwide amateur contact database.

Programmable

FCC 47CFR90.203 requires the keypad locked in the shipping configuration. Software keypad unlocking and re-programming are available with the included USB Programming Cable.

Speaker Connection

2-pin style Kenwood/Wouxun type earphone and speaker mic connection for a variety of accessories.

Quiet Tones

CTCSS/DCS tone squelch with split tone and custom tone capability.

Frequency Range

136-174 / 400-480 MHz RX/TX

Package Includes

Dual-band VHF/UHF Radio, 3100 mAh extended life lithium ion battery, desk charger w/ AC adapter, Dual-band antenna, belt clip, free USB Programming cable and downloadable software, user manual.

Certifications

FCC Part 90 Certified, FCC ID: T4KD868UV

Dimensions

129 x 61 x 39 mm (with battery)

Weigth

282 g (with battery and antenna)

Sensibility

<=0.25µV (large band), <=0.335µV (narrow band)

Digital Sensibility

0.3µV/-117.4dBm (BER 5%)   0.7µV/-110dBm (BER 1%)
AT-D868UV Characteristics Complement
Some of the features are not highlighted by the manufacturer, certainly some of them are rather accessory than others but this shows the richness of the AnyTone.
Two VFO A and B, either analogue / DMR / UHF / VHF.
Several configurable IDs (When you lend your device to an friend OM, it will transmit with its own ID). Select the ID to use on your 868UV from Menu / Settings / Chan set / 12.Radio ID. / Select / Option / Select Radio Id
88-108 MHz FM broadcast radio reception, with programmed frequencies. To switch to FM, remember to assign a programmable key
Possibility to add private and public Talkgroups and be ready to broadcast without opening the PC to program the station (see below)
Possibility to add Channels without PC
Customization of the ignition screen, with a text or an image (dimensions 160 x 130 pixels, jpg or bmp formats) Example image. Password start protection possible.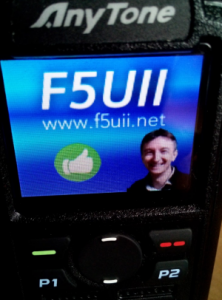 Battery voltage display (by programmable key)
GPS integrated into the transceiver, with a rather fast synchronization and "fix" of the satellites. Information on longitude, latitude, speed (m/s) and altitude (m). When the position is correct, the GPS icon on the top band appears in red. Information about the AT-D868UV is accessed via the Menu / GPS / GPS Infor key. You can easily send your position to a contact by SMS, validating with the Edit button. The introduction text (by default "My current GPS position is" can be changed from CPS / Optional Setting / GPS-Ranging). GPS allows you to set the AT-D868UV time precisely (Menu / Settings / Radio Set / 44 Date Time / GPS Check)
"Hold time" – After your call partner has finished transmitting, a beep and/or a message will make you wait a few seconds (programmable duration). This allows you not to pick up too quickly and to ensure a blank before picking up the microphone again.
Automatic PTT triggering by adjustable Vox
Adjustable microphone gain (via CPS software and also directly on the Menu / Settings / Radio Set / 25 Mic Level = 1 / 2 / 3 / 4 / 5)