Fonctions interessantes
Ranging (telemetry)
Assign to soft key the Ranging function (CPS>Optional Setting>Key function): First the other radio will have to make a call to you, then the radio will know who is calling, in this situation, press the assigned distance key, it will then display the distance information of both radios, distance and direction at regular intervals. The telemetry function is only valid when the GPS positioning is valid for both reception and transmission (both radios).Set the interval in CPS>Optional Setting>Digital Fun>Ranging Intervals, then activate the Ranging function, the radio then displays the location and distance of your call partner at regular interval.
Friends list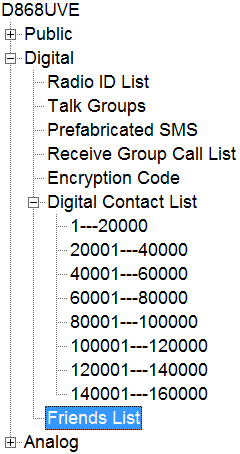 You define a list of friends (Left List / Digital / Friends List). As soon as one of your friends transmits on a TG, your AT-D868UV emits an alert tone.This function only works from the moment you have defined or imported a list of Contacts. Enter your friend's ID in the'DMR ID' field, then click Search, then Add.
Add a talkgroup on the AT-D868UV without PC
A very interesting function is to be able to add a discussion group, whether it is a public identifier (TG) or an OM identifier (private ID). The trick is to switch from private to public with the hash key #. Here is a little animation that shows you the addition of a TG and its broadcast on ATD868UV
Add a channel on the AT-D868UV without a PC
It is quite easy to add a channel using the default setting. This video shows you step by step the operation. Of course, by entering the Settings/ Chan Set menu, you can change the RX and TX frequencies, the colorcode if needed.
The monitoring function, timeslots listening
The Digi Moni menu allows you to listen to everything on the current channel's reception frequency, while choosing :
Listen to the timeslot of the channel, or the 2 timeslots of the reception frequency
Listen to the same colorcode as the channel, or all colorcodes that can be heard
Play only the same ID (TG) only, or any ID
I recommend programming a shortcut key to switch the Digi Mon. This allows you to easily release the listening of a channel to access the Menu. Indeed, as on the MD380, the Promiscous reception prohibits any possibility to interact with the menu while a reception is in progress.
In addition, as from firmware version 2.30, a programmable key can be configured to switch the timeslot channel : TS1 / TS2. Very practical to transmit easily when the timeslot of the channel on which you wish to transmit is already occupied by another transmission.