Le firmware AT-D868UV
About the firmware
My AT-D868UV is delivered with its 2.27 firmware. The original firmware (Device Info) displayed in the Menu / Settings / Device Info displays these items
Model Name : D868UV
Freq Range : 400-480 136-174
Firmware version 2.27
Hardware Ver : 1.10
Radio Data Ver : 1.00
Last Pro Date : 2018-03-05
Worm Peak: 1.10
Lange Ver ; 1.00
Sct SW Ver : V2.01.05NJ
By using this version, I notice on some occasions rather annoying operating bugs: Complete freezes requiring the removal of the battery for restarting, but also station receivers displayed on the screen but without BF audio signal. I decide to upgrade the firmware to 2.29 dated 26/05/2018 and then to 2.30 dated 23/06/2018. Thankfully, since that version, I really haven't seen any more problems. This version also adds some interesting features, developed below:
Firmware 2.29
Display the last station heard during transmission (CPS->Optional Setting->Other->Show Last Call On Launch = On)
Keyboard beep with variable level according to volume level (CPS->Optional Setting->Alert Tone ->Key Tone levels = On)
Enable the Ranging function for private call channels.
Specify the unit of measure for Ranging (CPS->Optional Setting->GPS/Ranging->Ranging) either "meter" or "feet"
Multiple keyboard locking options
Change from 5 to 7 digits 5Tone selector function
Ranging Direction Correction
Fixed malfunction when downloading contact CSV files to import directly.
In Friends list, add search by repeater number
Improved PTT response speed when connecting to a radio relay.
Added the possibility to program function key to toggle maximum volume level (Indoor /1 / 2 / 3 / 4 / 5 / 6 / 7 / 8)
Select SMS format CPS->Optional Setting->Digital Fun->SMS format = M-SMS / H-SMS)
Firmware 2.30
Added the ability to assign timeslot switching (Slot Swith) to a function key.

Take into consideration the band limits of the auto repeater offset function. No automatic out-of-band offset if out of user configured band limits.
Added ability to configure 2 band limits for auto repeat offset function.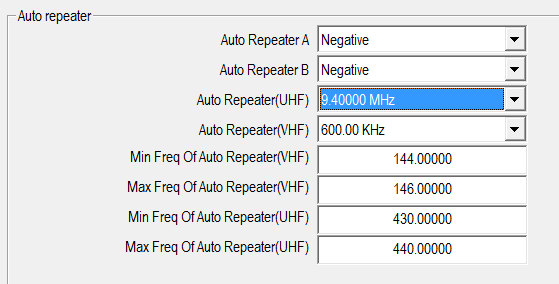 In Menu / Call Log / Last Call, add a list of last 30 calls.
Enhanced Friends list search: The Repeater number now becomes Callsign. Search is case insensitive (lower/upper case accepted)
Problems with switching on the auto repeater function after switching off the station has been solved
Problem of PF2 key Long press to scanner solved
Solved the problem of absence of RSSI and green light at PTT release
New option in Optional Setting / Other /Adress Book Sent with its own code = On or Off
The different hardware versions
For hardware version V1.0, use firmware file version V1.xx
For hardware version V1.1, use firmware file version V2.xx