Avant d'émettre, un peu de confort avec SDR Console
A voice keyer with SDR Console
The Transmit panel of SDR Console offers 3 buttons that allow you to switch different audio sources and their settings. The buttons are labeled Normal, DX and Other.
For each button, you can define independent settings, including specific sound cards. I propose to you step by step the implementation of a voice keyer.
Install recording software such as Audacity. This software is free and has many audio signal processing functions (filter, editing, noise reduction…). You can also simply use the Windows standard recorder.
Record your CQ call with your most beautiful voice. Save the project.

To be able to properly "inject" your recording to SDR Console, we will install two virtual audio channels. Download and install VB-CABLE Virtual Audio Device.
On Windows, two new audio channels are now available: a Cable Input channel and a Cable Output channel. The two channels are connected together. As soon as a sound is sent on Cable Input, it is available on Cable Output. To be able to use the new audio channels, restart SDR Console and Audacity.
On the Transmit panel, we will consider that with the Normal button, you will configure your microphone with which you usually work.
Now, let's configure the DX button, which will have to be switched to activate it for your caller. Choose CABLE Output, and switch on the VOX.
Now, on your audio player, switch the audio output to CABLE Input.

Start playback of your recording in your audio player. This is sent via the Cable Input/Cable Output channel to SDR Console, which immediately switches to transmission using the VOX function. On Audacity, to start playing your recording in a loop, hold down the Shift key on the keyboard before clicking on Play (or directly at the keyboard shortcut: Shift + space bar). If you have an answer to your call via satellite, you will click on the Normal button on the Transmit panel of SDR Console, so that your usual microphone is operational again.
The band limits
Since version 3.0.11 of SDR Console, it is possible to integrate markers on the spectrum. On my configuration, I added the band plan limits for traffic on the QO100 satellite.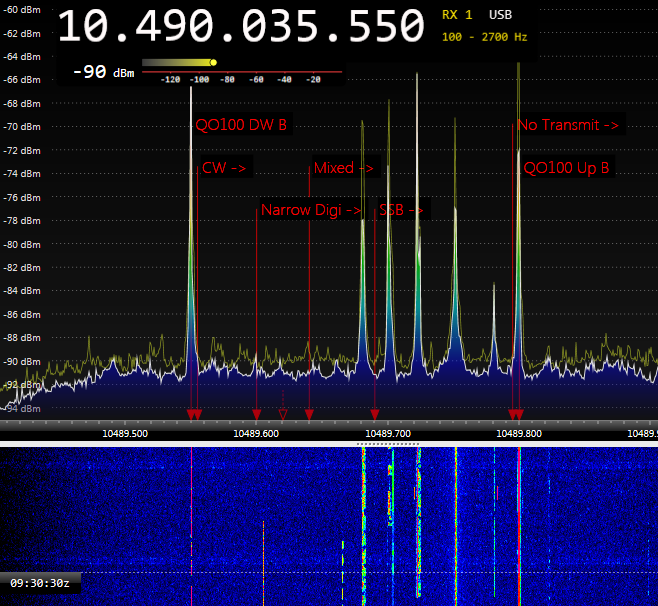 I invite you to do the same, by downloading my already configured file.
Download my file SDRConsole BandMap QO100 F5UII.CSV
On the View tab (menu), click on Markers.
On the Spectrum Makers window, click on the"…" button and choose CSV Import. Point on the downloaded file.
Select all lines and then OK. Close the "Spectrum Makers" window