S'équiper pour la réception du satellite
The diagram
Here is the diagram of the receiving line. It corresponds to one of the ways of receiving the signals transmitted by the QO-100 satellite. It has the advantage of implementing a recent and inexpensive technology, which can be considered to be already equipped with a computer.
As mentioned above, the signal transmitted by the satellite is on 10 GHz, the operation of the head is to convert this frequency into a lower frequency, and therefore more easily usable by the usual receivers.

The receiver consists of a dish that focuses the incident signals. In the focal point we will place a LNB television receiver unit. But be careful to choose a LNB (Low Noise Block) with PLL technology (Phase-locked loop also called controlled phase loop). Indeed, LNB satellite with DRO (Dielectric Resonator Oscillator) technology will not be suitable because they have very poor frequency stability. Compared to quartz-based PLL LNBs, DRO is relatively unstable with temperature, and undergoes large frequency fluctuations from +/- 250 kHz to +/- 2 MHz. The PLL LNB will evolve to +/- 25 kHz to +/-50 kHz.
| Power supply voltage | Polarization | Modulation (kHz) | OL (MHz) | Ku band segment (MHz) | Transposed to L-band (MHz) |
| --- | --- | --- | --- | --- | --- |
| 10 à 14 V | Vertical | 0 | 9750 | 10700 à 11700 | 950 à 1950 |
| 15 à 19 V | Horizontal | 0 | 9750 | 10700 à 11700 | 950 à 1950 |
| 10 à 14 V | Vertical | 22 | 10600 | 11700 à 12750 | 1100 à 2150 |
| 15 à 19 V | Horizontal | 22 | 10600 | 11700 à 12750 | 1100 à 2150 |
To operate on the transmission frequency of the QO-100 narrowband transponder, we need to operate the LNB in its low frequency portion. Even if the frequency is lower than the minimum frequency indicated on the LNB manufacturers' data sheets, the latter will be perfectly suitable. So no need to generate 22kHz, and its power supply will be below 15V to activate vertical polarization. The station power supply you probably already own and which usually supplies 13.8V is therefore perfectly suited to power the head via the T-Bias.
Get the LNB PLL heads
As mentioned above, it is important to choose a PLL LNB. Here are some links that are worth completing as we go along.
T bias power supply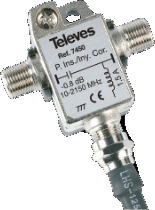 The T-bias is designed to inject direct current into the RF circuit without affecting the RF signal. You can find them all made up or you can of course build them up.
The K6VHF software allows you to calculate the necessary capacitors and inductors.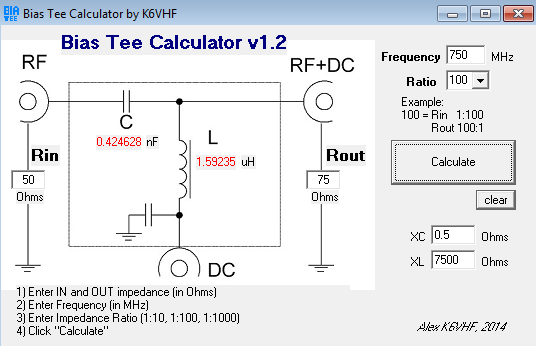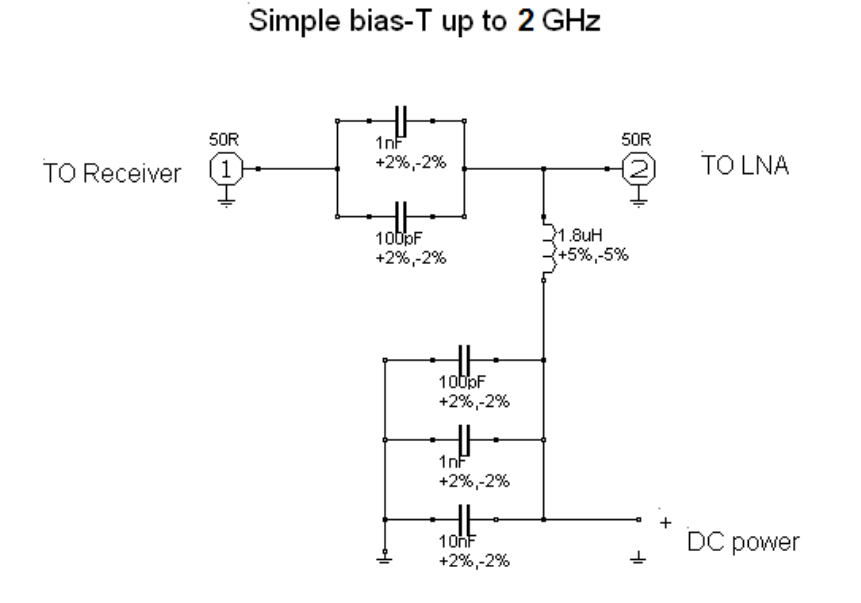 SDR hardware
Le signal va être réceptionné grâce à un "récepteur" SDR (Software Design Radio), qui va transformer le signal en échantillons numériques qui seront récupérés par l'ordinateur. Si vous souhaitez plus de détails sur le fonctionnement des récepteurs et émetteurs SDR, je vous invite vivement à écouter The signal will be received through a SDR (Software Design Radio) "receiver", which will transform the signal into digital samples that will be collected by the computer. If you would like more details on how SDR receivers and transmitters work, I strongly invite you to listen to Sylvain F4GKR's presentation which is available on the REF-info channel on Youtube (in french).

There are many hardware solutions, but the most well-known and cheapest is the one that consists in using a USB stick for DVB-T reception, such as this one equipped with an RTL 820T2 chip.