Pointer sa parabole satellite vers Qatar Oscar 100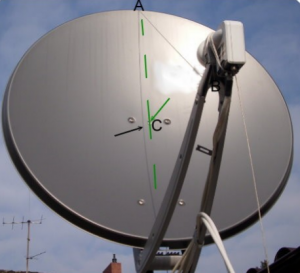 To determine the position of its antenna, it must be pointed as precisely as possible towards the geostationary satellite, positioned at 25.8 degrees East, overhead Kisangani, 35,800 kilometres above the Democratic Republic of the Congo. To help you, you will find below some software on PC, or on smartphone that will help you to do this.
Another solution is to get help from the sun. This web page (french), or this page (french), will tell you at what time the sun is exactly in the direction of the satellite. At this time, you will try to center the shadow of the feed on the vertical axis of symmetry of the dish. You can also help yourself by placing a cord between the bracket and the top of the parabola. Now all you have to do is adjust the elevation, searching directly on your SDR receiver for the strongest signal levels
The third adjustment consists in rotating the LNB unit on itself according to the value of the skew angle.
Online software to help with pointing
After indicating your location, and the desired satellite, these websites provide information on the azimuth, elevation and skew angle to be adopted to point the satellite.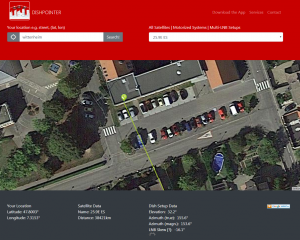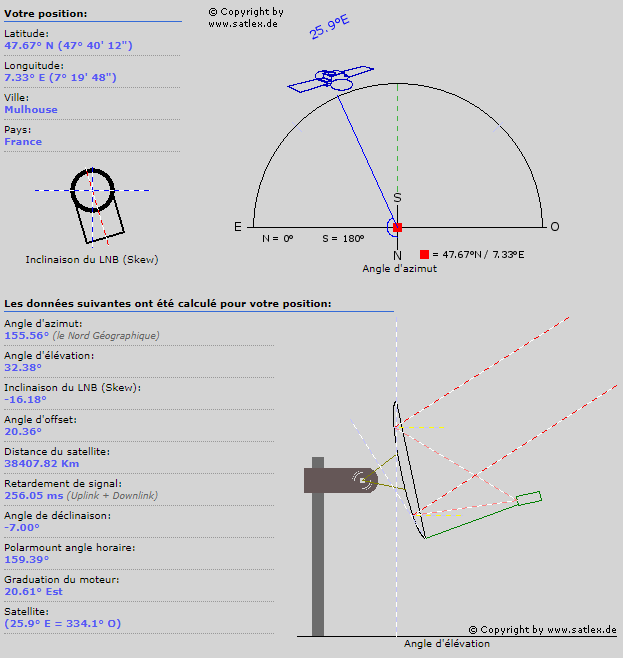 Software for mobile phones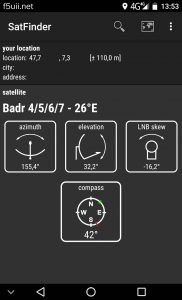 If you are equipped with a smartphone, you may be helped by software that calculates the antenna direction according to your position, and even allows you to display on the screen, the theoretical position of the satellite in the sky in superimposition of the real vision taken by the camera/video of your smartphone. A good way to check that you do not have a direct obstacle that obstructs the reception of signals.